Facelift
Serving Oak Lawn, Orland Park, Chicago & Surrounding Areas
If you live in the Chicagoland area and have been considering a complete facial rejuvenation, contact A New You Plastic Surgery & Laser Center. Men and women know that a youthful facial appearance can enhance one's natural beauty and build self-confidence. A facelift may be just what you need. An expert and natural-looking facelift is the best cosmetic procedure to improve visible signs of aging and restore your face to a more youthful look. A facelift is a surgical procedure that removes excess fat, tightens underlying muscles, and re-drapes the skin of your face and neck.
Do you live in or around Orland Park or Oak Lawn and are ready for a Facelift consultation?
WHY A FACELIFT? 
A facelift, also known as rhytidectomy, removes excess skin and fatty tissue around the jaw and neck and the skin is carefully pulled back and positioned. Dr. Rajendra Shah and Dr. Samir Shah both have the surgical expertise and experience to help you achieve a natural appearance and not a "pulled-tight" look.
A facelift can help improve the skin, smooth out deep cheek folds, jowls and loose, sagging skin around the neck. Although a facelift will improve and enhance the contour of your face and jawline, Dr. Rajendra Shah and Dr. Samir Shah advise facial rejuvenation patients that a facelift will not correct sun damage or fine wrinkles that have developed on the skin's surface. 
Facelift
Real Patient Testimonial
VIEW MORE FACE ENHANCEMENT VIDEOS
Results may vary
Facelift
Real Patient Testimonial
VIEW MORE FACE ENHANCEMENT VIDEOS
Results may vary
WHO IS A CANDIDATE FOR A FACELIFT?
Typically, most facelift candidates are men and women in their 40s, 50s, and 60s. In certain cases, the procedure can be performed on older individuals; however, best results are achieved with patients who still have relatively good skin elasticity and a strong facial bone structure.
IS FINANCING AVAILABLE?
Yes. We accept major credit cards, cash, or check. We also work with the financing company, Alphaeon® Credit. You may visit their website at https://d.comenity.net/alphaeoncosmetic/. We do not accept personal checks less than two weeks prior to surgery. To see our Financial Policy, visit our Financing page.
HOW IS A FACELIFT PERFORMED?
In preparation for facelift surgery, male and female patients are asked to abstain from smoking prior to the procedure and during the recovery period in order to avoid complications. Also, consumption of aspirin and other anti-inflammatory drugs prior to facelift surgery is not recommended, since these drugs are blood thinners, and may lead to increased bleeding during the course of the facelift.
A facelift is performed under local anesthesia with sedation. You will be monitored by an anesthesiologist. The surgery lasts approximately three hours, followed by recovery which lasts approximate two hours. You will be able to go home the same day as surgery.*
From an aesthetic viewpoint, there are differences in terms of optimal results for men and women.  In general, women desire a rejuvenated and softer facial appearance with a smooth neckline. Whereas, men tend to want a renewed appearance with more defined features especially along the jawline.  In both cases, men and women want natural-looking results.  
For men undergoing a facelift, Dr. Rajendra Shah and Dr. Samir Shah advise their patients that there are differences between the sexes that must be taken into consideration in order to produce natural-looking facial rejuvenation results. 
For example, men have some different facial structure and anatomy than women with one significant difference being the thickness of men's skin. During a facelift, the thickness of the skin is important as a man's skin is thicker than a women; as well, as their muscle and connective tissue. Another consideration is the presence of male facial hair to preserve a man's ability to wear a beard or sideburns. 
 During a male facelift procedure, Dr. Rajendra Shah and Dr. Samir Shah take into consideration these differences and adjust  their surgical technique so that a man doesn't end up with a tight, pulled appearance in the face after surgery.  (Learn more about male facelift)
We understand that scars are a concern; thereby, excess skin is removed through carefully concealed incisions in front of and behind the ears and in the hairline. Liposuction, or fat removal, is often performed at the same time to further refine your profile. The underlying tissue can be lifted to help restore cheek volume and treat the jowls. Frequently, we combine Non-Surgical facial treatments, such as CO2 laser skin resurfacing, FotoFacial®, CoolBreeze®, Chemical Peels and fat transfer to help create smoother skin, harmony and balance.
WHAT IS THE RECOVERY PROCESS? 
After about two weeks, most people find that they can return to work. As with any facial surgery, healing continues for six to nine months until every little irregularity settles and sensation in the skin and ears returns to normal.* A facelift can be done alone, or in conjunction with other facial procedures such as a brow lift, eyelid lift, or nose reshaping.
Do you live in or around Orland Park or Oak Lawn and are ready for a Facelift consultation?
WHY A NEW YOU FOR YOUR FACELIFT?
You only have one face! Trust your facial rejuvenation surgery to a facial specialist.
Dr. Samir Shah and Dr. Rajendra Shah
Are both board certified plastic surgeons with extensive experience and skill in aesthetic and reconstructive surgery.
Share a commitment to provide quality and compassionate care to their patients.
Provide an in-office surgical suite that is fully accredited by AAASF
Are both on staff at Advocate Christ Hospital. The office is located next to this premiere medical center.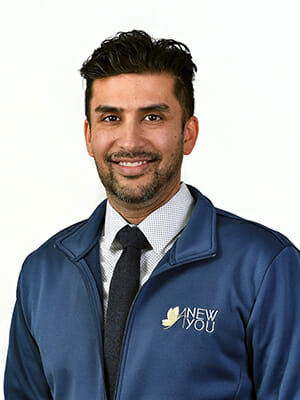 Dr. Samir Shah:
Earned his medical degree at the Chicago Medical School.
Trained in general surgery and completed a plastic surgery fellowship at Loyola University Medical Center.
Completed a one-year fellowship in hand surgery/microsurgery under the direction of world-renowned hand surgeon, Larry Hurst, M.D., at Stony Brook University, Long Island, NY.
Site director for Aesthetic Rotation at A New You
Clinical Assistant Professor of Plastic Surgery at University of Illinois- Chicago Department of Plastic Surgery
Has published numerous scholarly articles in medical journals, and lectures at local organizations.
If you are interested in learning how A New You Plastic Surgery & Laser Center can rejuvenate your face to a more youthful appearance with a facelift or other facial procedure , call our office today to schedule a
consultation with Dr. Rajendra Shah and Dr. Samir Shah, board certified plastic surgeons. Call 708-424-3999 or contact us online.
*Results may vary and are not guaranteed. Consult with Dr. Shah to see if you are a good candidate.