CoolBreeze® Laser Treatment
Serving Oak Lawn, Orland Park, Chicago & Surrounding Areas
What exactly does the CoolBreeze® laser treat?
CoolBreeze® reduces wrinkles and tightens skin. Over time, skin tends to appear thinner and loses volume to do environmental damage and aging. CoolBreeze® is the perfect solution for rebuilding your own collagen.
Acne and acne scarring can also be treated with the CoolBreeze® laser treatment. The laser penetrates deep into the skin to shrink oil glands, which tend to cause break outs. The heat triggers a repair mechanism which stimulates collagen, causing scarring to improve.
What does the CoolBreeze® Laser Treatment feel like?
You can expect to feel a warm sensation during the treatment. Some patients even tend to fall asleep! Light redness may occur immediately after but usually subsides in an hour or less.*
What improvement will I see?
Many patients report looking and feeling great about their skin! Skin will look and feel much more smooth and have great improvement in texture and tone. This improvement will be seen with a series of treatments. Dr. Shah and our aestheticians recommend a series of 3-5 treatments over a period of 2-4 months. Patients of Dr. Rajendra Shah and Dr. Samir Shah, love that they can get this done and then go about their day as they desire.*
Dr. Rajendra Shah
and

Dr. Samir Shah
Are both board certified plastic surgeons with extensive experience and skill in aesthetic and reconstructive surgery.
Share a commitment to provide quality and compassionate care to their patients.
Provide an in-office surgical suite that is fully accredited by AAASF
Are both on staff at Advocate Christ Hospital. The office is located next to this premiere medical center.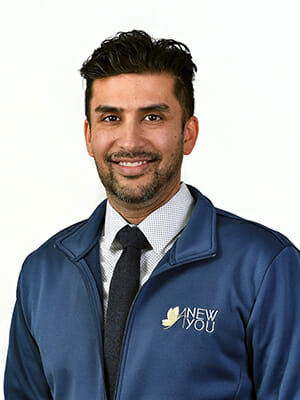 DR. SAMIR SHAH:
Earned his medical degree at the Chicago Medical School.
Trained in general surgery and completed a plastic surgery fellowship at Loyola University Medical Center.
Completed a one-year fellowship in hand surgery/microsurgery under the direction of world-renowned hand surgeon, Larry Hurst, M.D., at Stony Brook University, Long Island, NY.
Has published numerous scholarly articles in medical journals.
Is a member of the Alpha Omega Alpha Honor Society, Illinois Society of Plastic Surgery, and the American Society of Hand Surgery.
If you are interested in seeing if you are a candidate for CoolBreeze® Laser Treatment, call our office today to schedule a consultation with Dr. Shah . Call 708-424-3999 or contact us online.
*Results may vary and are not guaranteed. Consult with Dr. Shah to see if you are a good candidate.
Our

Locations