Earlobe Repair
Serving Orland Park, Oak Lawn, Chicago & Surrounding Areas
The earlobe can be torn or stretched out usually from heavy earrings or ear gauges.
Earlobe repair is a relatively straightforward procedure in which the torn or elongated portion is removed and the edges are placed back together. Dr Shah performs earlobe repairs in his office under local, a straight-forward relatively painless procedure.*
Earlobe Repair Photos
Results may vary
Dr. Shah's technique involves rearranging the tissue and closing the hole to create a favorable scar and improved contour of the earlobe. Stitches are removed in 5-7 days and ears can be re-pierced in as little as 6 weeks.*
Dr. Rajendra Shah
and

Dr. Samir Shah
Are both board certified plastic surgeons with extensive experience and skill in aesthetic and reconstructive surgery.
Share a commitment to provide quality and compassionate care to their patients.
Provide an in-office surgical suite that is fully accredited by AAASF
Are both on staff at Advocate Christ Hospital. The office is located next to this premiere medical center.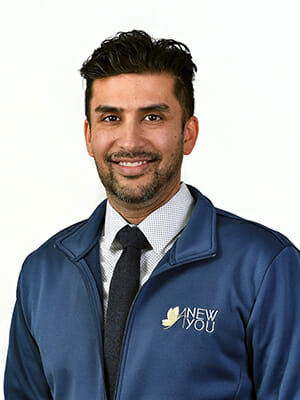 DR. SAMIR SHAH:
Earned his medical degree at the Chicago Medical School.
Trained in general surgery and completed a plastic surgery fellowship at Loyola University Medical Center.
Completed a one-year fellowship in hand surgery/microsurgery under the direction of world-renowned hand surgeon, Larry Hurst, M.D., at Stony Brook University, Long Island, NY.
Has published numerous scholarly articles in medical journals.
Is a member of the Alpha Omega Alpha Honor Society, Illinois Society of Plastic Surgery, and the American Society of Hand Surgery.
If you are interested in seeing if you are a candidate for a ear lobe repair, call our office today to schedule a consultation with Dr. Rajendra Shah and Dr. Samir Shah, board certified plastic surgeons. Call 708-424-3999 or contact us online.
*Results may vary and are not guaranteed. Consult with Dr. Shah to see if you are a good candidate.
Be a more confident you. Explore the benefits of Ear Lobe Repair surgery by contacting A New You Plastic Surgery & Laser Center today. Call our office to schedule a consultation with Dr. Rajendra Shah or Dr. Samir Shah.
Call 708-424-3999 or contact us online.

Our

Locations