Male Liposuction
Serving Orland Park, Oak Lawn, Chicago & Surrounding Areas
BODY CONTOURING FOR MEN
Liposuction only tackles the fat between the body wall and the skin. Liposuction can create a substantial contour change that shows off the underlying muscles. It can also create a shape that enhances the underlying muscles by highlighting the contour hollows and leaves fat to look like muscle bulges.
WHAT IS ABDOMINAL ETCHING?
Abdominal etching will accentuate the existing muscle tissue by getting rid of excess fat. This procedure takes liposuction to the next level to sculpt the tissues of the abdomen. We refer to this type of procedure as "high-definition liposculpture". Your stomach may look firmer, tighter, and more muscular as a result of abdominal etching.*
HOW LONG IS THE PROCEDURE?
Usually lasting no more than an hour, abdominal etching can be performed as an outpatient procedure using either local or general anesthesia.*
THE SURGERY
Before the surgery begins, Dr. Shah will trace an outline of the patient's abdominal muscles. These lines serve as guides during the surgery. Usually, general anesthesia or sedation is administered by an anesthesiology provider. Next, several small incisions will be made in the belly button or following natural creases on the abdomen. Using ultrasound liposuction technique, excess fat is removed along the lines drawn by the surgeon, sculpting the abs into the desired contours. At the conclusion of the procedure, the incisions, which usually measure less than a quarter of an inch long, may or may not require sutures.
Dr. Rajendra Shah
and

Dr. Samir Shah
Are both board certified plastic surgeons with extensive experience and skill in aesthetic and reconstructive surgery.
Share a commitment to provide quality and compassionate care to their patients.
Have thousands of satisfied patients, including male liposuction patients (View gallery and reviews).
Provide an in-office surgical suite that is fully accredited by AAASF
Are both on staff at Advocate Christ Hospital. The office is located next to this premiere medical center.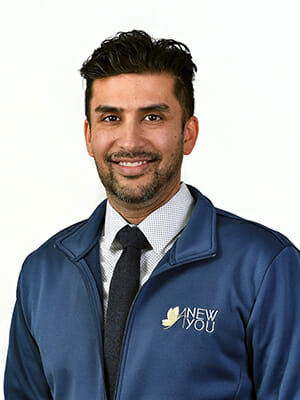 DR. SAMIR SHAH:
Earned his medical degree at the Chicago Medical School.
Trained in general surgery and completed a plastic surgery fellowship at Loyola University Medical Center.
Completed a one-year fellowship in hand surgery/microsurgery under the direction of world-renowned hand surgeon, Larry Hurst, M.D., at Stony Brook University, Long Island, NY.
Has published numerous scholarly articles in medical journals.
Is a member of the Alpha Omega Alpha Honor Society, Illinois Society of Plastic Surgery, and the American Society of Hand Surgery.
Call today to schedule a consultation to see if this procedure is right for you. Call 708-424-3999 or contact us online.
*Results may vary and are not guaranteed. Consult with Dr. Shah to see if you are a good candidate.
Be a more confident you. Explore the benefits of liposuction by contacting A New You Plastic Surgery & Laser Center today. Call our office to schedule a consultation with Dr. Rajendra Shah or Dr. Samir Shah.
Call 708.424.3999 or contact us online.

Our

Locations