Liposuction
Serving Orland Park, Oak Lawn, Chicago & Surrounding Areas
WHAT IS LIPOSUCTION?
Liposuction is a surgical procedure designed to improve the body shape by removing unwanted fat deposits from specific areas of the body. Even though fat serves an important storage function for the body and helps insulate the overlying muscles and bones of the body, excess amounts are not desirable.
Do you live in or around Orland Park and are ready for a Liposuction consultation?
Contact Us Today
Liposuction
Real Patient Testimonial
VIEW MORE LIPOSUCTION VIDEOS
Results may vary
Neck Liposuction
Experience
with Dr. Shah
VIEW MORE LIPOSUCTION VIDEOS
Results may vary
Liposuction is commonly used on the abdomen, buttocks, cheeks, chin, hips, knees, neck, thighs, and upper arms. It is a common procedure performed throughout the world. Often times the removed fat is purified and transferred to other parts of the body. The best candidate for liposuction is a person who is physically healthy and of normal weight but with areas of excess fat that are resistant to regular diet and exercise. You may click here to determine if you are at the appropriate BMI for the procedure.
Patients should also be psychologically stable and have realistic expectations of what the procedure can offer. Patients with good elasticity and firm skin tend to achieve the best results, while patients with diminished skin elasticity may not achieve the same results as a younger patient.
Liposuction can successfully improve the shape of the body and, like many cosmetic procedures; it may improve one's self-confidence as well. After surgery, you're likely to discover you're able to wear a wide variety of clothing than before. Liposuction is not a substitute for regular exercise and a healthy diet. By following a healthy diet and exercise regime, you can help to maintain your liposuction results.
Liposuction is not meant for weight loss. Often times patients, will supplement an exercise and diet with liposuction to assist in stubborn areas of fat deposits. After liposuction, weight needs to be lower than pre-surgery weight to optimize results. Finally, liposuction will not remove excess skin, and often times a tummy tuck or adjunct skin resection will need to be added to the procedure. Liposuction is routinely used to supplement tummy tuck or arm lifts.
WHAT ARE THE LIPOSUCTION OPTIONS OFFERED AT A NEW YOU?
The techniques involving liposuction has undergone a tremendous evolution and new technology has improved outcomes.
When you search for liposuction procedures, you will encounter several options including, laser (SmartLipo™), ultrasound (VASERlipo®), traditional, and Water liposuction. Each technique can offer its own advantages, and one technique is not superior to the other.
Dr. Shah's technique combines the benefits from the various technologies. His technique involves using a special cannula to deliver tumescent anesthetic solution (similar to water liposuction) to help hydrate and gently separate fat. Then, with a power assisted device, the fat is selectively removed and the remaining fat is equalized. If needed, Dr. Shah may laser to tighten the skin. Dr. Shah believes this method allows for the most ideal non-traumatic method of removing skin.
For ultrasound-assisted liposuction, or UAL, an ultrasound probe is inserted beneath the skin to liquefy the fat before it is suctioned out. In our practice, we use ultrasound for male gynecomastia and for high definition abdominal contouring procedures.
For laser liposuction, Dr. Shah has found optimal results in the neck. The rest of the body areas, Dr. Shah will combine several techniques; Dr. Shah can obtain consistent results while minimizing bruising and post-operative contour deformities.
As the technology expands and choices become endless, we believe the most important aspect is the surgeon who performs your liposuction. Industry marketing can often mislead patients to choosing by a technology. Liposuction is contouring; fat must be skillfully removed. More importantly, enough fat must be left behind to support the skin. Over resection can lead to contour deformities and poor aesthetics.
Dr. Rajendra Shah and Dr. Samir Shah are board certified plastic surgeons with years of experience and dedicated to achieving your desired outcome.
WHAT IS 360 DEGREE LIPOSUCTION?
It is a more comprehensive approach to liposuction that addresses the midsection, pubis, waistline, back and bra rolls to create natural angles, curvy shapes and circumferential reduction in fat. Many patients enjoy the opportunity to have full "slimming" to feel proportionate. Similar techniques can be applied to the thighs and upper arms.
DO I NEED GENERAL ANESTHESIA FOR THE PROCEDURE?
Not all liposuction procedures require general anesthesia. In fact, many locations will only offer "local" anesthesia. The choice to supplement local anesthesia requires consideration of several factors such as body areas treated, volume of fat removed, and other adjunct procedures.
The basis for a liposuction procedure is the use of tumescent fluid, a mixture of lidocaine (local anesthetic), epinephrine and a physiologic solution. The use of tumescent fluid minimizes discomfort and bleeding, and allows better removal of fat. Tumescent anesthesia has allowed Dr. Shah to safely perform "wide awake" liposuction.
In cases where sedation in required, Dr. Shah works closely with an anesthesia provider to ensure that patients have a comfortable experience. To have your surgeon and an anesthesiologist monitor you during your surgery is a tremendous safety benefit. The anesthesiologists are trained to provide "just enough" anesthesia to finish the procedure and minimize post-operative pain, nausea, etc.
At A New You Plastic Surgery, Dr. Rajendra Shah and Dr. Samir Shah have performed liposuction under local anesthesia and also under general anesthesia. Dr. Shah will evaluate your aesthetic needs and goals and together you will decide what type of anesthesia will be best.
THE SURGERY
The amount of time needed for liposuction will vary due to several factors, including the amount of fat being removed, the technique used, and the size of the area being treated. In general, however, Dr. Shah finds that liposuction typically takes between one and three hours to complete.* The procedure is commonly performed on an outpatient basis in a state certified operating room facility.
The procedure begins with small incisions made on the areas of the body being treated. A narrow, blunt-tipped tube called a cannula is then inserted through these incisions. The cannula is manipulated by the surgeon, infiltrating anesthetic fluid and gently separating the fat cells before they are suctioned out. The small incisions are then stitched closed. The incisions are less than half an inch and strategically placed.
After the procedure, patients will be expected to wear a compression garment for at least six weeks.*
Swelling is expected and may last several months. Generally, patients start returning to normal activity within a few weeks.* Dr. Shah and his team will follow you closely as you go through the recovery process.
WHY A NEW YOU PLASTIC SURGERY AND LASER CENTER FOR YOUR LIPOSUCTION?
Do you live in or around Orland Park and are ready for a Liposuction consultation?
Contact Us Today
Dr. Samir Shah and Dr. Rajendra Shah
Are both board certified plastic surgeons with extensive experience and skill in aesthetic and reconstructive surgery.
Share a commitment to provide quality and compassionate care to their patients.
Provide an in-office surgical suite that is fully accredited by AAASF
Are both on staff at Advocate Christ Hospital. The office is located next to this premiere medical center.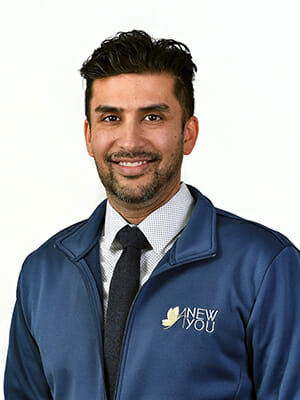 Dr. Samir Shah:
Earned his medical degree at the Chicago Medical School.
Trained in general surgery and completed a plastic surgery fellowship at Loyola University Medical Center.
Completed a one-year fellowship in hand surgery/microsurgery under the direction of world-renowned hand surgeon, Larry Hurst, M.D., at Stony Brook University, Long Island, NY.
Site director for Aesthetic Rotation at A New You
Clinical Assistant Professor of Plastic Surgery at University of Illinois- Chicago Department of Plastic Surgery
Has published numerous scholarly articles in medical journals, and lectures at local organizations.