Nose Surgery
Serving Orland Park, Oak Lawn, Chicago & Surrounding Areas
Your nose…the most important central feature of the face, affects the overall balance, harmony, and aesthetic appeal of your face. Is it too large, too small, too flat, too pointed? According to Dr. Shah, an aesthetically pleasing nose is one that fits your face with harmony, and in the correct proportions.
Cosmetic nose surgery, also known as rhinoplasty, has become one of the most sought after plastic surgical procedures in the US. Cosmetic surgery can change the shape of the whole nose or just a small part, making it fit more harmoniously with the rest of your face. Dr. Shah is highly skilled in making these changes while preserving and enhancing the function of the nose so that breathing is free and comfortable.
There are structures within the nose, namely the septum and turbinates, which affect the airflow through the nose. Dr. Shah will carefully examine the internal structure of your nose at the time of your consultation and provide information about possible improvement. Also during your initial consultation, Dr. Shah will first listen to your desires and goals. During the examination, he will make suggestions for nose improvements based on his assessment, your facial features and your desires, bringing extensive surgical experience and artistic sensitivity into the discussion so that together a final surgical plan will be adopted to achieve optimum results for your rhinoplasty.
Dr. Shah will evaluate your entire facial structure, with emphasis towards improving not only the nose, but its relationship to other parts of the face. The goal is to blend your nose aesthetically, thereby providing balance and harmony to your facial features. Many cultures in the Chicago area wish to have cosmetic nasal surgery, yet retain their ethnicity. These cultures have certain noses which patients may desire to retain. Dr. Shah will discuss with you openly and will make every effort to retain the ethnic features that you desire.
Nose Surgery
(Rhinoplasty)
Real Patient Testimonial
VIEW MORE NOSE SURGERY VIDEOS
Results may vary
The Surgery

Cosmetic surgery of the nose usually takes 1-1/2 to 2-1/2 hours and may be done either with you asleep under general anesthesia or awake under sedation. Most incisions are placed inside the nostrils, but in some cases, a small incision may be made in the natural creases along the sides or near the base of the nose. These heal quickly and leave scars that are nearly invisible. At the end of surgery, a cast will be place on your nose. If bleeding occurs, a light dressing may be placed inside the nostrils and removed either the same or the next day. If any sutures were placed in a natural crease, they are removed in several days. The cast is usually removed in one week.*
The Recovery

If you desire to look your best, schedule your initial consultation today and let Dr. Shah show you how nose contouring can greatly benefit your overall facial appearance.
Dr. Rajendra Shah
and

Dr. Samir Shah
Are both board certified plastic surgeons with extensive experience and skill in aesthetic and reconstructive surgery.
Share a commitment to provide quality and compassionate care to their patients.
Provide an in-office surgical suite that is fully accredited by AAASF
Are both on staff at Advocate Christ Hospital. The office is located next to this premiere medical center.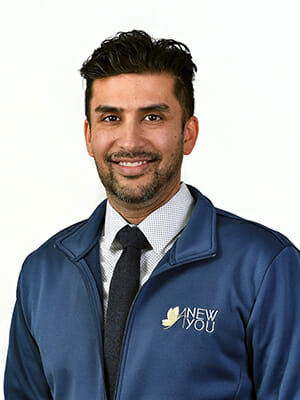 DR. SAMIR SHAH:
Earned his medical degree at the Chicago Medical School.
Trained in general surgery and completed a plastic surgery fellowship at Loyola University Medical Center.
Completed a one-year fellowship in hand surgery/microsurgery under the direction of world-renowned hand surgeon, Larry Hurst, M.D., at Stony Brook University, Long Island, NY.
Has published numerous scholarly articles in medical journals.
Is a member of the Alpha Omega Alpha Honor Society, Illinois Society of Plastic Surgery, and the American Society of Hand Surgery.
If you are interested in seeing if you are a candidate for a nose surgery , call our office today to schedule a consultation with Dr. Rajendra Shah and Dr. Samir Shah, board certified plastic surgeons. Call 708-424-3999 or contact us online.
*Results may vary and are not guaranteed. Consult with Dr. Shah to see if you are a good candidate.
Be a more confident you. Explore the benefits of Nose Reshaping (Rhinoplasty) surgery by contacting A New You Plastic Surgery & Laser Center today. Call our office to schedule a consultation with Dr. Rajendra Shah or Dr. Samir Shah.
Call 708-424-3999 or contact us online.

Our

Locations