Neck Lift
Serving Orland Park, Oak Lawn, Chicago & Surrounding Areas
Have you heard the term, "turkey neck"? Often times, men and women come to A New You Plastic Surgery and Laser Center looking for improvement for their sagging and loose skin under the jaw line and neck. This unflattering term, "turkey neck" or, "turkey waddle" can be reduced with a plastic surgery procedure called a platysmaplasty.
Do you live in or around Orland Park and are ready for a Neck Lift consultation?
Contact Us Today
WHAT IS A NECK LIFT?
A neck lift is a surgical procedure that addresses wrinkles and sagging skin on the neck caused by aging or weight loss. The procedure removes excess skin, tightens underlying muscles, and improves the contour of the jaw line. At A New You Plastic Surgery and Laser Center, Dr. Rajendra Shah and Dr. Samir Shah, board certified plastic surgeons and facial rejuvenation specialists typically perform this procedure in conjunction with a facelift at our AAAASF Certified Surgery Center in Oak Lawn, IL, but it can be done as a stand-alone treatment. A neck lift may also be called neck rejuvenation, mini neck lift, suspension neck lift, or lower face and neck lift.
Is Financing Available?
Yes. We accept major credit cards, cash, or check. We also work with the financing company, Alphaeon® Credit. You may visit their website at https://d.comenity.net/alphaeoncosmetic/. We do not accept personal checks less than two weeks prior to surgery. To see our Financial Policy, visit our Financing page.
Are you a Candidate for a Neck Lift?

Typical reasons men and women consider a neck lift is to:

Reduce jowls and turkey neck
Tighten facial and neck skin
Restore a more natural and youthful contour to the face and neck

A neck lift may be the answer to rejuvenate and contour your neck.
What Can You Expect from Neck Lift Surgery?

A neck lift (open platysmaplasty) is a major surgical procedure that should only be performed by a board-certified plastic surgeon as the neck muscles are tightened and the excess skin is trimmed. For patients with excess fat, facial liposuction or neck liposculpting is used to remove and produce optimal results.

Dr. Rajendra Shah and Dr. Samir Shah advise their neck lift patients that small incisions are made behind the ear as well as a small incision under the chin. No scars are visible in front of the ear.

During the recovery process neck lift patients experience some bruising and swelling which typically subsides in less than a month. Patients must wear a compression neckband for several weeks and restrict vigorous physical activities.*
What is Neck Liposculpting?

Similar to liposuction where underlying fat deposits are removed, neck liposculpture goes one step further by also creating a "chiseled" appearance by adding definition to the new contour of your neck.

A minimally-invasive technique, liposculpting is a valid solution for individuals who want to cosmetically improve the look and feel of their neck area but do not want to undergo major surgery. This procedure is also sought after by those who want lasting results with less recovery and downtime.*

Neck liposculpting is effective in treating the following cosmetic neck concerns:

Double chin
Jowls
Thick, full neck areas

Placement of incisions is dependent on each individual procedure, as improvements in the neck and chin may require different incision placements. A specialized cannula will then be used to aspirate excess fat without disturbing the nerves and blood vessels of these delicate areas.

Laser assisted liposuction is used to help tighten the undersurface of the skin during a liposuction procedure, or it could just be a laser resurfacing procedure that will tighten the skin externally. We employ similar technique as liposculpting, but the laser heats the skin to a controlled temperature which stimulates collagen to support skin tightening.
Why a Personalized Consultation?

During your consultation with Dr. Rajendra Shah or Dr. Samir Shah, they will provide an individualized approach and plan based on your concerns and anatomy.

Oftentimes, patients have localized issues to the neck and do not want to undergo a traditional neck lift or the downtime of surgery. For these patients, we offer Laser Neck Contouring and Neck Liposculpting. While these procedures do not replace surgery, they can often times improve the skin quality.
Why A New You Plastic Surgery & Laser Center for your Neck Lift?

If you are bothered by loose and sagging skin, a Neck Lift or Neck Liposculpture may be the answer to rejuvenate your facial appearance. Trust your facial rejuvenation to a facial specialist.
Do you live in or around Orland Park or Oak Lawn and are ready for a Neck Lift consultation?
Contact Us Today
Dr. Samir Shah and Dr. Rajendra Shah
Are both board certified plastic surgeons with extensive experience and skill in aesthetic and reconstructive surgery.
Share a commitment to provide quality and compassionate care to their patients.
Provide an in-office surgical suite that is fully accredited by AAASF
Are both on staff at Advocate Christ Hospital. The office is located next to this premiere medical center.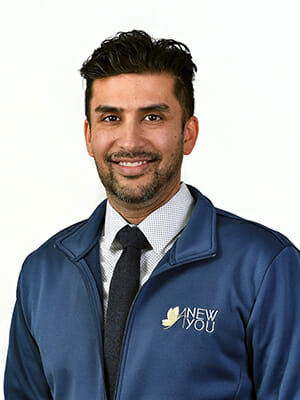 Dr. Samir Shah:
Earned his medical degree at the Chicago Medical School.
Trained in general surgery and completed a plastic surgery fellowship at Loyola University Medical Center.
Completed a one-year fellowship in hand surgery/microsurgery under the direction of world-renowned hand surgeon, Larry Hurst, M.D., at Stony Brook University, Long Island, NY.
Site director for Aesthetic Rotation at A New You
Clinical Assistant Professor of Plastic Surgery at University of Illinois- Chicago Department of Plastic Surgery
Has published numerous scholarly articles in medical journals, and lectures at local organizations.
If you are interested in learning how A New You Plastic Surgery & Laser Center can rejuvenate your face to a more youthful appearance with a Neck Lift or neck liposculpture, call our office today to schedule a consultation with Dr. Rajendra Shah and Dr. Samir Shah, board certified plastic surgeons. Call 708-424-3999 or contact us online.
*Results may vary and are not guaranteed. Consult with Dr. Shah to see if you are a good candidate.