Dysport®
Serving Orland Park, Oak Lawn, Chicago & Surrounding Areas
It is never too late to bring back your youthful skin! A daily skincare regimen may not be enough to help those lines between the eyebrows, crow's feet, and forehead. Dysport® is an FDA-approved facial injection proven to smooth and diminish those moderate-to-severe fine lines and wrinkles. Let us take charge with natural-looking results!
HOW WILL I KNOW HOW MUCH DYSPORT® I WILL NEED?
No need to worry! Before the treatment you will have a consultation to discuss your problem areas and expectations. Dr. Rajendra Shah and Dr. Samir Shah will discuss the exact placement of each Dysport® injection to get results that are right for you and come up with a plan.
HOW LONG WILL THIS TAKE?
Dysport® injections can be done right after meeting with Dr. Shah. Treatment times may vary, but typically you will be at our office for about 30-45 minutes from meeting with Dr. Shah to walking out the door.*
WHAT CAN I EXPECT DURING THE TREATMENT?
The procedure is quite simple and no anesthesia is required, although Dr. Shah may choose to numb the area with a cold pack or anesthetic cream prior to the injection. Dr. Shah will first determine where to administer the injections by examining your ability to move certain muscles in your brow area. Then Dr. Shah will administer several tiny injections of Dysport® directly into the muscles that cause those frown lines between the brows. Our patients report that there is little discomfort during treatment, comparing the sensation of a 'pin prick.'*
WHAT CAN I EXPECT AFTER THE TREATMENT?
There is little to no downtime needed following the procedure. Allow up to 14 days to see the full result, but many of our patients notice a difference much sooner. You will able to resume normal activity directly following the procedure.*
IS MAINTENANCE NEEDED AFTER DYSPORT®?
Results may last up to 4 months after your Dysport® treatment.* To maintain your results, Dr. Rajendra Shah, Dr. Samir Shah, and their team will discuss a treatment schedule to help you look as you did on your first session.
Dr. Rajendra Shah
and

Dr. Samir Shah
Are both board certified plastic surgeons with extensive experience and skill in aesthetic and reconstructive surgery.
Share a commitment to provide quality and compassionate care to their patients.
Provide an in-office surgical suite that is fully accredited by AAASF
Are both on staff at Advocate Christ Hospital. The office is located next to this premiere medical center.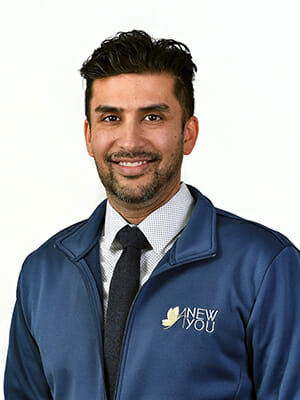 DR. SAMIR SHAH:
Earned his medical degree at the Chicago Medical School.
Trained in general surgery and completed a plastic surgery fellowship at Loyola University Medical Center.
Completed a one-year fellowship in hand surgery/microsurgery under the direction of world-renowned hand surgeon, Larry Hurst, M.D., at Stony Brook University, Long Island, NY.
Has published numerous scholarly articles in medical journals.
Is a member of the Alpha Omega Alpha Honor Society, Illinois Society of Plastic Surgery, and the American Society of Hand Surgery.
If you are interested in seeing if Dysport® is right for you, call our office today to schedule a consultation with Dr. Shah. Call 708-424-3999 or contact us online.
*Results may vary and are not guaranteed. Consult with Dr. Shah to see if you are a good candidate.

Our

Locations