Light Therapy
Serving Orland Park, Oak Lawn, Chicago & Surrounding Areas
BEST RED/BLUE LIGHT THERAPY TREATMENT
A New You Plastic Surgery is proud to offer light therapy by Elevare Skin. Elevare Skin produces an effective and safe system of light therapy for skin rejuvenation.
WHAT IS RED/BLUE LIGHT THERAPY?
Light therapy, or phototherapy, consists of exposure to specific wavelengths of light using polychromatic polarized light administered for prescribed amount of time. In fact, the technology was developed by NASA and has been shown to help improve healing in burns, diabetic ulcers, and wounds. Light therapy emits wavelengths that reach the deepest layer of the skin. The beauty is that it does not affect the surrounding tissues as the light targets hemoglobin to convert energy to remodel collagen.
WHAT ARE THE BENEFITS OF RED/BLUE LIGHT THERAPY?
The benefits of Red Light Therapy include:

✔ Improves circulation
✔ Improves collagen production
✔ Reduces inflammation
✔ Improves signs of sun damage and other age spots
✔ Improves signs of aging
The benefits of Blue Light Therapy include:

✔ Disinfects and detoxifies skin
✔ Reduces redness and inflammation in the skin
✔ Increases blood flow
✔ Treats and prevents acne
✔ Improves skin texture and tone
WHAT SKIN TYPES BENEFIT FROM RED/BLUE LIGHT THERAPY?
People of all skin types benefit from Red/Blue Light Therapy. These comfortable treatments are both non-invasive, natural treatments.
HOW SOON DO YOU SEE RESULTS?
Results can be seen as soon as the first treatment and will continue to improve over the next 8-12 weeks.*
IS THERE ANY DOWNTIME WITH RED/BLUE LIGHT THERAPY?
There is no downtime; patients can resume their normal activities directly after treatment. Patients may experience slight redness after treatment which will subside over the next few hours.*
WHAT CAN I EXPECT DURING THE RED/BLUE LIGHT THERAPY TREATMENT?
This treatment is designed to help you relax. Our esthetician will begin cleansing the skin with a gentle cleanser. Next, a purifying peel composed of fruit acids is applied and gently massaged into the skin. The treatment is commenced by dividing the face into three sections for treatment. First, the Blue light device is then applied to the skin with light pressure in circular motions for about three minutes for each section of the face. You will feel slight heat during treatment. The same protocol is then used for the Red light application. The treatment is very relaxing and feels like a warm massage. The massage oil is then removed with a warm towel. A collagen sheet mask is then applied for 10 minutes. The mask is then removed and moisturizer is then applied along with sunscreen.
Dr. Rajendra Shah
and

Dr. Samir Shah
Are both board certified plastic surgeons with extensive experience and skill in aesthetic and reconstructive surgery.
Share a commitment to provide quality and compassionate care to their patients.
Have thousands of satisfied patients, including microdermabrasion patients (View gallery and reviews).
Provide an in-office surgical suite that is fully accredited by AAASF
Are both on staff at Advocate Christ Hospital. The office is located next to this premiere medical center.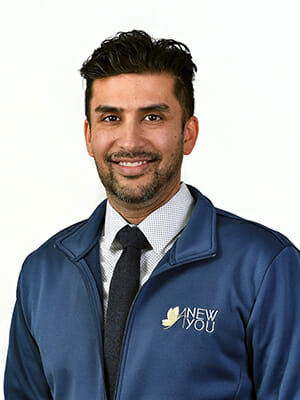 DR. SAMIR SHAH:
Earned his medical degree at the Chicago Medical School.
Trained in general surgery and completed a plastic surgery fellowship at Loyola University Medical Center.
Completed a one-year fellowship in hand surgery/microsurgery under the direction of world-renowned hand surgeon, Larry Hurst, M.D., at Stony Brook University, Long Island, NY.
Has published numerous scholarly articles in medical journals.
Is a member of the Alpha Omega Alpha Honor Society, Illinois Society of Plastic Surgery, and the American Society of Hand Surgery.
If you are interested in Red/Blue Light Therapy, contact A New You today to request an appointment.
Call 708-424-3999 or contact us online.
*Results may vary and are not guaranteed. Consult with Dr. Shah to see if you are a good candidate.

Our

Locations