Mommy Makeover
Serving Orland Park, Oak Lawn, Chicago & Surrounding Areas
A New You Plastic Surgery and Laser Center offers mommy makeovers at our AAAASF Certified Surgery Center in Oak Lawn, IL. A mommy makeover is any combination of cosmetic procedures that helps improve your before-pregnancy appearance, typically focusing on the breasts and abdomen. A typical makeover might include a tummy tuck, a breast procedure such as an augmentation, lift, or reduction, and liposuction of the legs, arms, or trunk.
Mommy Makeover
Real Patient Testimonial
VIEW MORE BODY ENHANCEMENT VIDEOS
Results may vary
WHEN TO CONSIDER A MOMMY MAKEOVER?
If your pregnancy has negatively affected the size and shape of your breasts
If you're distressed about your sagging tummy and stretch marks
If pockets of fat on your waist, abdomen, arms or thighs do not improve with diet and exercise
HOW CAN A MOMMY MAKEOVER HELP?
Rejuvenates your appearance with a more youthful-looking bust and flat tummy
Your clothes and swimwear will fit better
Helps you achieve post-pregnancy appearance goals
ARE YOU A GOOD CANDIDATE FOR A MOMMY MAKEOVER?
Mommy makeovers are designed to improve the physical changes associated with childbearing and aging. If childbirth has left you with the following characteristics, consider undergoing a mommy makeover:
You have sagging breasts, uneven breasts, decreased breast volume, drooping nipples and stretched areolas (the dark skin surrounding the nipple).
Your breasts have become so much larger after childbirth that they are out of proportion with the rest of your body and they cause back pain.
Your tummy has loose skin and stretch marks and your waistline has become thick and undefined.
You had a C-section and now you have areas of fat hanging over your surgical scar.
You have excess fat in the love-handle area as well as in the hips and thighs.
You have early signs of aging in your face and around the eyes.
WHY A NEW YOU PLASTIC SURGERY AND LASER CENTER FOR YOUR MOMMY MAKEOVER?
Dr. Rajendra Shah
and

Dr. Samir Shah
Are both board certified plastic surgeons with extensive experience and skill in aesthetic and reconstructive surgery.
Share a commitment to provide quality and compassionate care to their patients.
Provide an in-office surgical suite that is fully accredited by AAASF
Are both on staff at Advocate Christ Hospital. The office is located next to this premiere medical center.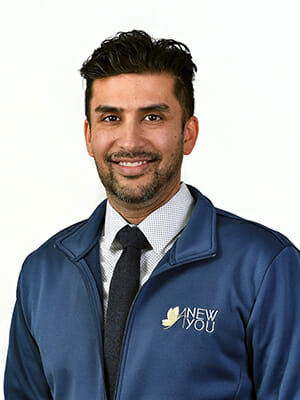 DR. SAMIR SHAH:
Earned his medical degree at the Chicago Medical School.
Trained in general surgery and completed a plastic surgery fellowship at Loyola University Medical Center.
Completed a one-year fellowship in hand surgery/microsurgery under the direction of world-renowned hand surgeon, Larry Hurst, M.D., at Stony Brook University, Long Island, NY.
Has published numerous scholarly articles in medical journals.
Is a member of the Alpha Omega Alpha Honor Society, Illinois Society of Plastic Surgery, and the American Society of Hand Surgery.
If you are interested in seeing if you are a candidate for a mommy Makeover, call our office today to schedule a consultation with Dr. Rajendra Shah and Dr. Samir Shah, board certified plastic surgeons. Call 708-424-3999 or contact us online.
*Results may vary and are not guaranteed. Consult with Dr. Shah to see if you are a good candidate.
Be a more confident you. Explore the benefits of mommy makeover surgery by contacting A New You Plastic Surgery & Laser Center today. Call our office to schedule a consultation with Dr. Rajendra Shah or Dr. Samir Shah.
Call 708-424-3999 or contact us online.

Our

Locations