CoolSculpting®
Serving Orland Park, Oak Lawn, Chicago & Surrounding Areas
Are you struggling with stubborn fat deposits on your abdomen, arms, back, buttocks, chin, flank (love handles), and thighs that are not responsive to diet and exercise? If you answered, yes, you are not alone!
Body sculpting specialists, Dr. Rajendra Shah and Dr. Samir Shah, may now have the answer you have been searching for – a non-surgical procedure – CoolSculpting®. This remarkable technology uses the science of cryolipolysis that literally freezes and kills fat cells.
Do you live in or around Orland Park and are ready for a CoolSculpting® consultation?
Contact Us Today
CoolSculpting® was first FDA-approved in 2010 for reducing fat in the flank or love handle part of the body. With positive clinical results, the technology is now FDA-cleared for a total of 9 areas of the body.
CoolSculpting®
Real Patient Testimonial
VIEW MORE COOLSCULPTING VIDEOS
Results may vary
Once the fat is gone, its gone for good
Ask if Coolsculpting is right for you
VIEW MORE COOLSCULPTING VIDEOS
Results may vary
WHAT IS COOLSCULPTING® AND DOES IT WORK?
CoolSculpting® is one of the worlds' best non-invasive methods to contour your body by freezing unwanted fat cells. CoolSculpting® can help you to achieve your body shaping goals with NO surgery and NO downtime.*
At A New You Plastic Surgery and Laser Center in Oak Lawn and Orland Park, IL, we have authentic CoolSculpting®machines, manufactured by Allergan. Dr. Rajendra Shah and Dr. Samir Shah advise people looking for a non-surgical fat reduction procedure to beware of knock-off machines that will not deliver results! Trust the clinically proven results of CoolSculpting® technology.
Authentic CoolSculpting® (cryolipolysis) has a high success rate. The clinical research demonstrates their patented technology is effective for reducing areas of fat from the body, and has fewer side effects than other procedures, such as liposuction.*
Equally as important factor is the skill and expertise of the physician and CoolSculpting® technicians in charge of your sessions. The precise placement of the CoolSculpting® applicator on the fat deposits is critical so that the vacuum pressure and cooling works only on the targeted area. After the treatment session our certified technicians gently massages the cooled tissue. The dead fat cells are absorbed by the body over the next several weeks.*
Dr. Rajendra Shah and Dr. Samir Shah personally direct and oversee all CoolSculpting® treatment sessions to ensure optimal treatment results are obtained.
WHO ARE GOOD CANDIDATES FOR COOLSCULPTING®?
CoolSculpting® treats pinchable fat. Men and women who have stubborn fat deposits on their arms, abdomen (belly fat), back, bra rolls, chin, love handles, flanks and thighs could be a candidate for CoolSculpting®.
It's always best to set up a consultation with Dr. Rajendra Shah and Dr. Samir Shah to determine if CoolSculpting® is the answer for your body shaping goals as there may be other body contouring procedures that may be more suitable. Procedures, such as liposuction and SmartLipo™ can successfully remove fat and improve the shape of your body.
IS FINANCING AVAILABLE?
Yes. We accept major credit cards, cash, or check. We also work with the financing company, Alphaeon® Credit. You may visit their website at https://d.comenity.net/alphaeoncosmetic/. We do not accept personal checks less than two weeks prior to surgery. To see our Financial Policy, visit our Financing page.
If you have any questions concerning fees or financing, do not hesitate to ask. Our staff is here to help you.
How Does CoolSculpting® Work?

The non-surgical body sculpting doctors at A New You Plastic Surgery and Laser Center in Oak Lawn and Orland Park, IL are experts in achieving optimal results using patented CoolSculpting® technology. The clinically tested technology delivers controlled cooling to the targeted fat cells beneath the skin. Precise placement of the cooling pads is required to target the desired areas.

The fat cells are then crystallized (frozen) and are naturally shed. Results typically are observed within 2 – 6 months.* After a Coolsculpting® procedure, your weight may be the same but you will have a more sculpted physique.
What Areas of the Body is CoolSculpting® FDA-Cleared to Treat?

CoolSculpting® is for patients at or near their ideal body weight and want to reduce visible fat in one or more of the 9 FDA cleared treatment areas, including:

Abdomen
Arms (upper)
Back
Bra
Back
Buttocks (banana roll)
Chin (submental fat under the chin)
Flanks
Jawline (submandibular fat under the jawline)

CoolSculpting® is also FDA-cleared to affect the appearance of tissue laxity with submental area treatments.
What Can I Expect During My Treatment?

During your treatment, a gel pad and applicator are applied to the targeted area. You will feel a slight suction and cooling. You will be able to relax, read a book or even take a nap during the procedure.* A short massage is then performed on the area to further break up the crystallized cells and help with the entire process.
What Can I Expect After My Treatment?

Slight swelling and tenderness may occur directly after the treatment, but most patients return to their normal activities. Results can be seen as early as three weeks after your treatment, but the most dramatic changes will be seen after one to three months.* We will schedule a follow-up appointment to evaluate your results, take photos, and answer any questions.
What are the Expected Results of CoolSculpting®?

In the weeks after the procedure has been performed, your body processes the treated fat cells naturally. Maximum results are seen three weeks to a month after the CoolSculpting® procedure.*
How Long Does the CoolSculpting® Procedure Take?

During your personalized consultation with Dr. Rajendra Shah or Dr. Samir Shah they will be able to determine the length of the procedure for you to achieve your desired goal.
What are the Advantages of CoolSculpting®?

No surgeon's knife
No anesthesia required
Mild to no discomfort*
No downtime*
No scarring
FDA-Approved
How Do I Need to Recuperate After the Procedure?

No time at all! You are able to go back to work or your other routine activities immediately after the procedure.*
How Is CoolSculpting® Different from Other Minimally-Invasive Fat Reduction Procedures?

Dr. Samir Shah advises his body shaping patients that a personalized consultation is required so he can review your fat reduction and body shaping goals and conduct a physical exam to recommend the best treatment modality.

For some patients SmartLipo™ may be a more suitable procedure to reduce fat cells and tighten loose skin. The difference between SmartLipo™ and CoolSculpting® is that SmartLipo™ is a laser-assisted body shaping system that destroys and removes fat cells in specific parts of the body. The system then delivers energy directly to fat cells-causing them to break down. The "fat melting" energy then coagulates tissue, thus causing collagen retraction which tightens the surrounding tissue, whereas, CoolSculpting® uses freezing technology to reduce stubborn fat deposits.
Do you live in or around Orland Park and are ready for a CoolSculpting™ consultation?
Contact Us Today
Dr. Samir Shah and Dr. Rajendra Shah
Are both board certified plastic surgeons with extensive experience and skill in aesthetic and reconstructive surgery.
Share a commitment to provide quality and compassionate care to their patients.
Provide an in-office surgical suite that is fully accredited by AAASF
Are both on staff at Advocate Christ Hospital. The office is located next to this premiere medical center.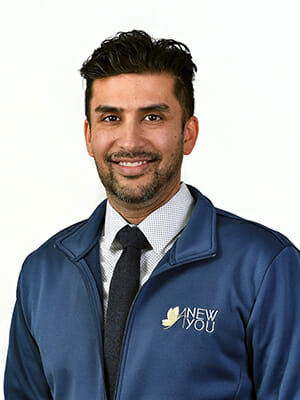 Dr. Samir Shah:
Earned his medical degree at the Chicago Medical School.
Trained in general surgery and completed a plastic surgery fellowship at Loyola University Medical Center.
Completed a one-year fellowship in hand surgery/microsurgery under the direction of world-renowned hand surgeon, Larry Hurst, M.D., at Stony Brook University, Long Island, NY.
Site director for Aesthetic Rotation at A New You
Clinical Assistant Professor of Plastic Surgery at University of Illinois- Chicago Department of Plastic Surgery
Has published numerous scholarly articles in medical journals, and lectures at local organizations.