Ear Reshaping
Serving Orland Park, Oak Lawn, Chicago & Surrounding Areas
Ear reshaping surgery (also known as Otoplasty) adjusts the position, shape, and possibly size of the ear to bring balance to the face and be more aesthetically appealing.
Do you live in or around Orland Park or Oak Lawn and are ready for an Ear Reshaping consultation?
Contact Us Today
Although otoplasty is usually a surgical procedure performed on children, it is also a procedure that can improve the self-esteem of adults. Dr. Rajendra Shah and Dr. Samir Shah appreciate that individuals may be concerned about their appearance at any age.
ABOUT EAR RESHAPING SURGERY
For children, it is recommended that otoplasty be performed while they are asleep. However, the procedure can be performed on adults with local or general anesthesia. Dr. Shah reshapes the cartilage into a more natural shape by utilizing special suture techniques. The surgery is performed via an incision behind the ears to decrease the likelihood of a visible scar.
EAR RESHAPING RECOVERY
Directly after the surgery and for up to three days, a large protective dressing is applied. Children are then given a headband to be worn day and night for two weeks. The headband need only be worn at night for an additional four weeks. The purpose of the head band is to protect the ears during healing from abrupt changes in position during the critical early healing period.*
Ear
Reshaping
Real Patient Testimonial
VIEW MORE EAR RESHAPING VIDEOS
Results may vary
Adults are also instructed to use a headband, though may select to wear it only at night once the dressings are removed. After two weeks, full activity may be resumed except for contact sports which require an additional four weeks of recovery.*
Initially, the ears may feel numb and look flat against the side of the head. Mild bruising is normal, but typically subsides within two weeks and healing should be complete within four to six weeks.* Discomfort post-op is normal and is usually controlled by pain medication. Patients should always follow their individual post-op care instructions.
Do you live in or around Orland Park or Oak Lawn and are ready for an Ear Reshaping consultation?
Contact Us Today
Dr. Samir Shah and Dr. Rajendra Shah
Are both board certified plastic surgeons with extensive experience and skill in aesthetic and reconstructive surgery.
Share a commitment to provide quality and compassionate care to their patients.
Provide an in-office surgical suite that is fully accredited by AAASF
Are both on staff at Advocate Christ Hospital. The office is located next to this premiere medical center.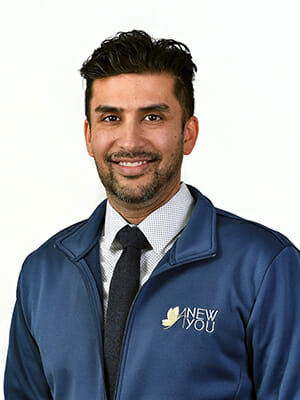 Dr. Samir Shah:
Earned his medical degree at the Chicago Medical School.
Trained in general surgery and completed a plastic surgery fellowship at Loyola University Medical Center.
Completed a one-year fellowship in hand surgery/microsurgery under the direction of world-renowned hand surgeon, Larry Hurst, M.D., at Stony Brook University, Long Island, NY.
Site director for Aesthetic Rotation at A New You
Clinical Assistant Professor of Plastic Surgery at University of Illinois- Chicago Department of Plastic Surgery
Has published numerous scholarly articles in medical journals, and lectures at local organizations.