Ear Reshaping
Serving Oak Lawn, Orland Park, Chicago & Surrounding Areas
You probably remember the kid in grade school with big ears – the one always getting teased. Large, protruding ears are the bane of childhood. As we grow older, they can make us feel self-conscious about our appearance.
Perhaps, prominent ears run in your family. Approximately twenty-five percent of children by parents with prominent ears will also develop prominent ears, and the same teasing you may have suffered as a child may be part of your child's early years.*
Otoplasty, or corrective surgery for prominent ears, can be done any age after five years. By age five, the ear cartilage has grown to nearly adult size and is resilient enough to support corrective surgery. Dr. Shah uses special suture techniques to reshape the ear cartilages into a natural shape. These techniques are well established and time-proven.
Otoplasty can give you, or your child, gratifying, lasting results quickly and effectively.*
Ear
Reshaping
Real Patient Testimonial
VIEW MORE EAR RESHAPING VIDEOS
Results may vary
THE SURGERY
In adults, the surgery can be performed under local or general anesthesia. It is recommended that children be completely asleep for the surgery, since it lasts approximately two hours.* The surgery is performed through an incision behind the ear so there is no visible scar.
THE RECOVERY
After the surgery, a large protective dressing is applied for three days. Afterwards, a headband is worn by children day and night for two weeks, followed by headband use at night only for an additional four weeks. The headband helps to protect the ears from abrupt changes in position during the critical early healing period.*
Adults may choose to wear the headband at night only from the start. Full activity can be resumed in two weeks, and contact sports are safe after six weeks. At first, the ears feel numb and look flat against the side of the head. Mild bruising is usual, but this subsides within two weeks. As with other plastic surgery of the face, there is a remarkable absence of pain. Everything feels back to normal within four to six weeks.*
Dr. Rajendra Shah
and

Dr. Samir Shah
Are both board certified plastic surgeons with extensive experience and skill in aesthetic and reconstructive surgery.
Share a commitment to provide quality and compassionate care to their patients.
Provide an in-office surgical suite that is fully accredited by AAASF
Are both on staff at Advocate Christ Hospital. The office is located next to this premiere medical center.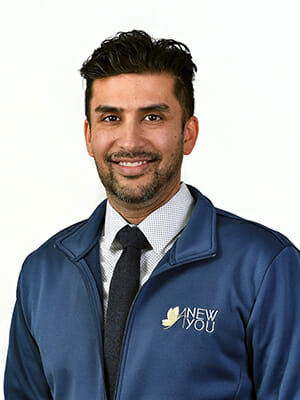 DR. SAMIR SHAH:
Earned his medical degree at the Chicago Medical School.
Trained in general surgery and completed a plastic surgery fellowship at Loyola University Medical Center.
Completed a one-year fellowship in hand surgery/microsurgery under the direction of world-renowned hand surgeon, Larry Hurst, M.D., at Stony Brook University, Long Island, NY.
Has published numerous scholarly articles in medical journals.
Is a member of the Alpha Omega Alpha Honor Society, Illinois Society of Plastic Surgery, and the American Society of Hand Surgery.
If you are interested in seeing if you are a candidate for a Ear Reshaping, call our office today to schedule a consultation with Dr. Rajendra Shah and Dr. Samir Shah, board certified plastic surgeons. Call 708-424-3999 or contact us online.
*Results may vary and are not guaranteed. Consult with Dr. Shah to see if you are a good candidate.
Be a more confident you. Explore the benefits of Ear Reshaping surgery by contacting A New You Plastic Surgery & Laser Center today. Call our office to schedule a consultation with Dr. Rajendra Shah or Dr. Samir Shah.
Call 708-424-3999 or contact us online.
Our

Locations