Breast Lift
Serving Orland Park, Oak Lawn, Chicago & Surrounding Areas
Breast lift surgery, also known as, mastopexy, can restore the contour of the breasts to a more youthful-looking, vivacious state. A breast lift effectively lifts and tightens breast tissue. Likely candidates who have sagging breasts due to past pregnancies, genetics, weight loss, or aging should consider the breast lift procedure at A New You Plastic Surgery and Laser Center. A breast lift can also reduce sagging if it is too substantial to be treated with an implant alone or if the nipple-areolar complexes (pigmentated area around the nipple) are enlarged.
Do you live in or around Orland Park and are ready for a Breast Lift consultation?
Contact Us Today
Breast lift surgery helps patients achieve a more attractive, feminine shape and contour, and better proportioned areolas. Often, breast augmentation surgery is performed in combination with mastopexy, using a specialized endoscopic technique for implant placement.
Breast
Lift
Real Patient Testimonial
VIEW MORE BREAST LIFT VIDEOS
Results may vary
THE SURGERY
Breast lift surgery takes approximately one to three hours and is performed on an outpatient basis at our state-of-the-art, fully accredited surgical suite with anesthesia. Breast lifts are common for women who experience sagginess of the breast and low placement of the nipples.
While Dr. Shah may provide several options for the placement of the incisions required for the breast lift procedure to accommodate your individual needs, generally the incisions are placed around the nipple-areolar complex and in the crease underneath the breast. During breast lift surgery, excess skin is removed from around the nipple-areolar complex and from the bottom of the breast. The nipple-areolar complex is then repositioned higher. In addition, the breast can be reshaped or reduced to provide better shape and projection.
Dr. Samir Shah will also discuss the benefits of soft tissue support. He utilizes an absorbable P4HB mesh (GalaFLEX) to create an internal bra that helps maintain the lift for longer periods.
Finally, the insertion of a breast implants or fat graft grafting will be discussed as an enhancement to the procedure. Not all women want or will require implants.
All patients will receive scar care silicone treatments. In majority of cases, the scar will heal well and fade appropriately.
THE RECOVERY
Since breast lift surgery is performed on an outpatient basis, patients go home in a bra with only light dressings over the incision lines. The bra is worn as a "dressing" for two to three weeks and sutures are usually removed in two to three weeks. Initial discomfort or pain is controlled with oral medications. Light activities may be resumed in seven to ten days; however, you should avoid mild or strenuous exercise for several weeks and should be extremely gentle with your breasts for at least six weeks following surgery.*
WHY A NEW YOU PLASTIC SURGERY AND LASER CENTER FOR YOUR BREAST LIFT?
Do you live in or around Orland Park and are ready for a Breast Lift consultation?
Contact Us Today
Dr. Samir Shah and Dr. Rajendra Shah
Are both board certified plastic surgeons with extensive experience and skill in aesthetic and reconstructive surgery.
Share a commitment to provide quality and compassionate care to their patients.
Provide an in-office surgical suite that is fully accredited by AAASF
Are both on staff at Advocate Christ Hospital. The office is located next to this premiere medical center.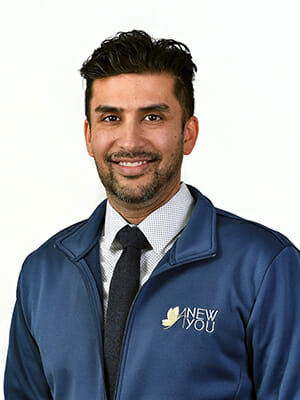 Dr. Samir Shah:
Earned his medical degree at the Chicago Medical School.
Trained in general surgery and completed a plastic surgery fellowship at Loyola University Medical Center.
Completed a one-year fellowship in hand surgery/microsurgery under the direction of world-renowned hand surgeon, Larry Hurst, M.D., at Stony Brook University, Long Island, NY.
Site director for Aesthetic Rotation at A New You
Clinical Assistant Professor of Plastic Surgery at University of Illinois- Chicago Department of Plastic Surgery
Has published numerous scholarly articles in medical journals, and lectures at local organizations.