Breast Reduction
Serving Orland Park, Oak Lawn, Chicago & Surrounding Areas
Breast reduction surgery, also known as reduction mastopexy, can dramatically reshape breasts that are too large or disproportionate, and can also alleviate neck and back pain, reduce skin discomfort and irritation from bra straps, thereby reducing self-consciousness.* Overlarge breasts can also result in severe overall disproportion in a woman's body. Our goal is to create smaller yet youthful breasts that fit your frame.
Do you live in or around Orland Park and are ready for a Breast Reduction consultation?
Contact Us Today
Women may also consider breast reduction surgery if current breast size causes breathing difficulties, poor posture, or interference with normal daily activities and exercise.
THE SURGERY
Performed under general anesthesia, Dr. Shah performs breast reduction surgery in our state-of-the-art, fully accredited surgical suite, lasting approximately two to three hours. Incisions are made similar to an anchor or inverted keyhole encompassing the area around the nipple-areolar complex (the pigmented area) and extended vertically below the nipple and in the fold underneath the breast. Excess breast tissue, fat, and skin are removed where the incisions are made. The nipple-areolar complex may then be moved and/or repositioned to create the desired natural-looking breast shape and contour. Because breast reduction surgery is major surgery, some scarring is expected; however, should generally fade over time.* Often times, Dr. Samir Shah will use soft tissue support absorbable mesh to help create an internal sling or "bra" that maintains the stability over time.
THE RECOVERY
Breast reduction surgery is usually performed on an outpatient basis. Patients go home in a bra with only light dressings over the incision lines. The bra is worn as a "dressing" for two to three weeks. As with the breast lift procedure, sutures are usually removed in two to three weeks. Initial discomfort or pain is controlled with oral medication. Light activities may be resumed in seven to ten days; however, you should avoid mild or strenuous exercise for several weeks and should be extremely gentle with your breasts for at least six weeks following surgery.*
WHY A NEW YOU PLASTIC SURGERY AND LASER CENTER FOR YOUR BREAST REDUCTION?
Do you live in or around Orland Park and are ready for a Breast Reduction consultation?
Contact Us Today
Dr. Samir Shah and Dr. Rajendra Shah
Are both board certified plastic surgeons with extensive experience and skill in aesthetic and reconstructive surgery.
Share a commitment to provide quality and compassionate care to their patients.
Provide an in-office surgical suite that is fully accredited by AAASF
Are both on staff at Advocate Christ Hospital. The office is located next to this premiere medical center.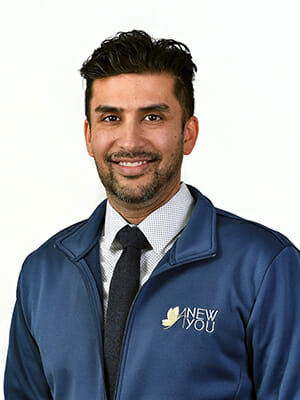 Dr. Samir Shah:
Earned his medical degree at the Chicago Medical School.
Trained in general surgery and completed a plastic surgery fellowship at Loyola University Medical Center.
Completed a one-year fellowship in hand surgery/microsurgery under the direction of world-renowned hand surgeon, Larry Hurst, M.D., at Stony Brook University, Long Island, NY.
Site director for Aesthetic Rotation at A New You
Clinical Assistant Professor of Plastic Surgery at University of Illinois- Chicago Department of Plastic Surgery
Has published numerous scholarly articles in medical journals, and lectures at local organizations.