Male Facial Rejuvenation
Serving Orland Park, Oak Lawn, Chicago & Surrounding Areas
Many people associate cosmetic enhancement procedures with women rather than men. While women do still account for the majority of aesthetic surgeries, more and more men are looking into cosmetic procedures to help look younger and refreshed.*
At A New You Plastic Surgery & Laser Center, Dr. Rajendra Shah and Dr. Samir Shah advise their patients that all facial surgical, non-surgical and facial sculpting surgery offered to women are also suitable for male patients. But there are differences between the sexes that must be taken into consideration in order to produce natural-looking facial rejuvenation results.
Generally speaking, men have a little different facial structure and anatomy than women with one significant difference being the thickness of men's skin. Dr. Rajendra Shah and Dr. Samir Shah explain that when performing a facelift, the thickness of the skin is important as women's skin tends to be thinner than men's. Also, women tend to have thinner muscle and connective tissue in the facial area compared to men. During the surgical procedure, Dr. Rajendra Shah and Dr. Samir Shah take into consideration these differences and skillfully perform the facelift so that a man or women doesn't end up with a tight, pulled appearance in the face after surgery.
Do you live in or around Orland Park or Oak Lawn and are ready for a Male Facial Rejuvenation consultation?
Contact Us Today
Another big difference is the presence of male facial hair. Due consideration must be given to preserving a man's facial hair if wears a beard or has sideburns. This is important due to placement of the facelift incisions to accommodate the hair.
In regards to facial liposculpture, the neck differs between the sexes. For men, the fat tends to be fibrous and difficult to remove with a cannula. Having a plastic surgeon that is experienced in male cosmetic surgery and liposuction is important to produce optimal natural-looking results.
During your facial rejuvenation consultation with Dr. Rajendra Shah or Dr. Samir Shah you will discuss your specific goals; e.g. reducing sagging, improving the appearance of wrinkled skin, reducing jowls, enhancing cheekbones, etc. The "artistic" aspect of a facelift procedure is critical to produce for men a more masculine look with a chiseled and defined jawline as opposed a softer appearance for women.
MALE SURGICAL FACIAL REJUVENATION PROCEDURES
Some of the surgical facial enhancement procedures offered for men include:
FACIAL INJECTABLES FOR MALE FACIAL REJUVENATION
Men, not ready for surgery but looking to rejuvenate your facial appearance? Dr. Rajendra Shah and Dr. Samir Shah advise men that dermal fillers/injectables and wrinkle reducers work very well in men.
Because men's facial muscles are larger and thicker, in some cases more units of BOTOX® Cosmetic or Dysport® may be needed and more facial dermal filler volume may be required.
The facial filler/injectable (Restylane®, Restylane® Lyft, Restylane® Silk, Juvéderm®, Juvéderm Voluma®XC, or Sculptra® Aesthetic) depends on the facial area. Each filler/injectable requires a separate syringe.
MALE NON-SURGICAL AND SKINCARE FACIAL RENEWAL PROCEDURES
Other Aesthetic procedures offered at A New You that help keep a man's skin healthy and vibrant include:
Male skin responds very well to rejuvenating skin care products such as:
WHY CHOOSE A NEW YOU?
You only have one face! Trust your facial rejuvenation to a facial specialist.
Do you live in or around Orland Park or Oak Lawn and are ready for a Male Facial Rejuvenation consultation?
Contact Us Today
Dr. Samir Shah and Dr. Rajendra Shah
Are both board certified plastic surgeons with extensive experience and skill in aesthetic and reconstructive surgery.
Share a commitment to provide quality and compassionate care to their patients.
Provide an in-office surgical suite that is fully accredited by AAASF
Are both on staff at Advocate Christ Hospital. The office is located next to this premiere medical center.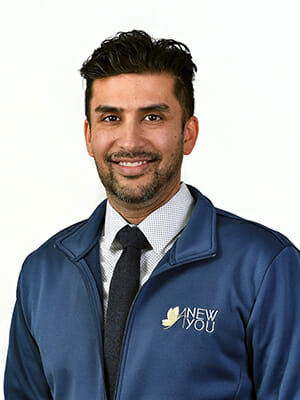 Dr. Samir Shah:
Earned his medical degree at the Chicago Medical School.
Trained in general surgery and completed a plastic surgery fellowship at Loyola University Medical Center.
Completed a one-year fellowship in hand surgery/microsurgery under the direction of world-renowned hand surgeon, Larry Hurst, M.D., at Stony Brook University, Long Island, NY.
Site director for Aesthetic Rotation at A New You
Clinical Assistant Professor of Plastic Surgery at University of Illinois- Chicago Department of Plastic Surgery
Has published numerous scholarly articles in medical journals, and lectures at local organizations.