Laser Skin Treatments
Serving Orland Park, Oak Lawn, Chicago & Surrounding Areas
CO2 Pulse Laser Skin Resurfacing Treatment
The new C02 pulse lasers are effective for treating fine lines that occur with aging and exposure to the elements. We are using them to treat acne scarring, "crow's-feet" around the eye and vertical wrinkles that occur in the upper lip.
This new method for skin resurfacing takes advantage of the ability of the laser to penetrate the skin to a precise depth. This consistency of penetration affords an even effect over the entire area treated. The superficial skin is shed. New skin regenerates, providing a fresher, smoother appearance. After the treatment, which is done under local anesthesia with sedation, the skin is red for up to ten days. The redness fades in a few weeks, turning pink. The pink is easily camouflaged with makeup and disappears in one to three months.*
Do you live in or around Orland Park and are ready for a Laser Skin Treatments consultation?
Contact Us Today
Erbium Laser Skin Resurfacing Treatment
Available at our Oak Lawn office, the Erbium laser is one of our patients' favorite skin resurfacing treatments. It is the treatment of choice for those wanting to achieve dramatic improvement in the appearance of their skin with minimal downtime.* The procedure removes surface pigmentation and mild to moderate fine lines and wrinkles on the face, hands, neck, and chest. Dr. Rajendra Shah and Dr. Samir Shah will first meet with you and access your skin and concerns during your consultation.
How Does It Work?
The Erbium laser directs short, concentrated beams of light that precisely removes skin layer by layer. This reveals the underlying skin that is smoother and younger looking. This activates collagen production which will help tighten the skin. The procedure is performed by Dr. Rajendra Shah and Dr. Samir Shah with the use of a local anesthetic or mild sedative if needed. You will be awake, but a little drowsy. This makes for a more comfortable experience.* The treatment time depends on if Dr. Shah is spot treating the face or is treating the entire area.
Am I a Candidate For Erbium Laser Treatment?
Erbium laser can be used on a variety of skin types. Those seeking to improve their fine lines and wrinkles will reveal younger, smoother-looking skin. Fine lines around the mouth, crow's feet, and forehead are greatly diminished. Although these results are great, patients must have realistic expectations and will be discussed during your consultation with Dr. Rajendra Shah and Dr. Samir Shah.
Acne scarring can also be reduced. The Erbium laser improves collagen production and therefore helps fill in those pitted marks left behind from acne breakouts. Patients can expect to even and smooth out their skin tone.
Because the Erbium laser can remove layers of skin, hyperpigmentation can also be addressed. Age spots, sun spots, and discoloration can all be treated and removed.
What You Can Expect After An Erbium Laser Treatment?
It is normal to have redness or swelling directly after the treatment. Some patients report that they feel as though they have a mild sunburn. An antibiotic ointment is applied after the treatment and can be applied for the days to follow. This will speed up the recovery process. You can expect mild redness for the first couple days, depending on the patient and how aggressive the treatment was.*
Do you live in or around Orland Park and are ready for a Laser Skin Treatments consultation?
Contact Us Today
Dr. Samir Shah and Dr. Rajendra Shah
Are both board certified plastic surgeons with extensive experience and skill in aesthetic and reconstructive surgery.
Share a commitment to provide quality and compassionate care to their patients.
Provide an in-office surgical suite that is fully accredited by AAASF
Are both on staff at Advocate Christ Hospital. The office is located next to this premiere medical center.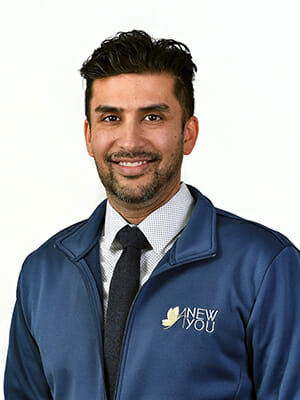 Dr. Samir Shah:
Earned his medical degree at the Chicago Medical School.
Trained in general surgery and completed a plastic surgery fellowship at Loyola University Medical Center.
Completed a one-year fellowship in hand surgery/microsurgery under the direction of world-renowned hand surgeon, Larry Hurst, M.D., at Stony Brook University, Long Island, NY.
Site director for Aesthetic Rotation at A New You
Clinical Assistant Professor of Plastic Surgery at University of Illinois- Chicago Department of Plastic Surgery
Has published numerous scholarly articles in medical journals, and lectures at local organizations.