Brazilian Butt Lift (BBL)
Serving Orland Park, Oak Lawn, Chicago & Surrounding Areas
One of the most popular techniques to achieve a curvaceous looking buttock is a combined liposuction procedure with fat transfer, also known as Brazilian Butt Lift.
Many women are dissatisfied with the size and shape of their buttocks. A flat buttock is a common complaint for women looking to improve the shape of their body.
Do you live in or around Orland Park and are ready for a Brazilian Butt Lift consultation?
Contact Us Today
Dr. Rajendra Shah and Dr. Samir Shah are both board certified plastic surgeons at A New You Plastic Surgery and Laser Centerand advise patients that there are different procedures and techniques available to augment and reshape your buttocks.
These gluteal cosmetic enhancement techniques have evolved over the years and are quite effective in providing women with a larger and shapely backside. Both Dr. Rajendra Shah and Dr. Samir Shah stress to patients that it is important to focus on the whole body so that balance and harmony is achieved along with the desired shaping and augmentation of the patient's buttocks. Dr. Shah encourages patients to bring in pictures of their ideal look, and he will also review before and after photos. Factors such as hip to waist ratio, hollow areas or ridges in the buttock, and amount of available fat are discussed during your consultation examination. Dr. Shah understands the flanks, hips and buttocks must be proportional balanced to achieve natural-looking results.
HOW IS BRAZILIAN BUTT LIFT PERFORMED?
Dr. Rajendra Shah and Dr. Samir Shah begin the Brazilian Butt Lift procedure by carefully sculpting the abdomen, back, and love handles with liposuction. Liposuction sets the stage for a fat transfer to augment the buttocks.
During your Brazilian Butt Lift, our surgeons use meticulous techniques to collect and purify the fat. The fat is collected in a "closed system" and cleansed with antibiotics. After preparation, the fat is then precisely injected fat into the buttock to add shape and volume. The buttock has several large vessels so through knowledge of anatomy and danger zones are paramount.
The goal is to improve the disproportionate areas in the hip to buttock and to achieve an improved and enhanced-shaped posterior. It is important to understand the fat transfer is to supplement volume deficiencies, but the lipo-contouring creates the foundation for creating shape, and fat serves as the final piece for volume enhancement.
Both Dr. Rajendra Shah and Dr. Samir Shah perform patients' Brazilian Butt Lift procedures in A New You's AAAASF certified facility in Oak Lawn, Illinois. Prior to surgery, Dr. Shah will mark out determined areas to remove fat and carefully draw areas where fat can be re-injected. These procedures can last a few hours and are performed with general anesthesia by our board certified anesthesia provider.*
WHAT IS THE RECOVERY PROCESS FOR A BRAZILIAN BUTT LIFT?
After the procedure, patients will need to wear a garment for six weeks. Also, patients will avoid prolonged sitting (more than 20 minutes) for 2-4 weeks. We will recommend a special pillow for sitting. Patients are advised that it takes several weeks to see optimal results. Some studies have suggested up to a seventy-five percent resorption rate after fat transfer; Dr. Shah typically sees less than that; thereby, some degree of over-correction is routinely performed.*
Do you live in or around Orland Park and are ready for a Brazilian Butt Lift consultation?
Contact Us Today
Dr. Samir Shah and Dr. Rajendra Shah
Are both board certified plastic surgeons with extensive experience and skill in aesthetic and reconstructive surgery.
Share a commitment to provide quality and compassionate care to their patients.
Provide an in-office surgical suite that is fully accredited by AAASF
Are both on staff at Advocate Christ Hospital. The office is located next to this premiere medical center.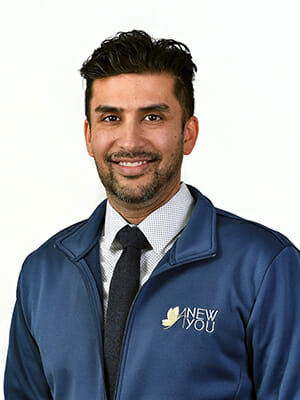 Dr. Samir Shah:
Earned his medical degree at the Chicago Medical School.
Trained in general surgery and completed a plastic surgery fellowship at Loyola University Medical Center.
Completed a one-year fellowship in hand surgery/microsurgery under the direction of world-renowned hand surgeon, Larry Hurst, M.D., at Stony Brook University, Long Island, NY.
Site director for Aesthetic Rotation at A New You
Clinical Assistant Professor of Plastic Surgery at University of Illinois- Chicago Department of Plastic Surgery
Has published numerous scholarly articles in medical journals, and lectures at local organizations.