Arm Lift
Serving Orland Park, Oak Lawn, Chicago & Surrounding Areas
When you age, the upper arm skin becomes loose and flabby. A brachioplasty (also known as arm lift), is a surgical procedure to reduce the circumference of the upper arm by removing and tightening the loose skin. Dr. Shah may also suggest that liposuction be used to remove the excess fat deposits. Brachioplasty and liposuction procedures can be done together or individually to improve the "Bat Wing Deformity."
A brachioplasty improves the appearance of the upper arm and will require a scar that can extend from the arm pit to the elbow. These scars usually heal well after a period of wearing a compression garment. Liposuction will require several very small incisions that should be almost indistinguishable once healed.
Arm Lift Photos
Click here to view more Before & After Photos
Results may vary
THE SURGERY
Depending on your specific conditions, incisions made by Dr. Shah may be limited. Underlying supportive tissue is tightened and reshaped with internal sutures. Finally, the skin is smoothed over the new contour of your arm. Your incisions will be closed with absorbable sutures, or stitches that will be removed within one to two weeks following surgery.*
The smoother, tighter contours that result from brachioplasty are apparent almost directly following the procedure, although initial results may be somewhat obscured by swelling and bruising. The upper arm will be improved both in appearance and feel.
Although the decision to have arm lift surgery is extremely personal, you will have to decide if the benefits will achieve your goals and if the risks and potential complications are acceptable. However, carefully following Dr. Shah's post operative instructions greatly reduces the possibility of risk and complication following surgery. Dr. Shah will address any concerns you may have during your personalized consultation.
Brachioplasty is usually performed on an outpatient basis at our fully accredited, state-of-the-art surgical suite using the latest equipment available. Since you will be placed under general anesthesia, be sure to arrange for someone to drive you to and from surgery and to stay with you for at least the first night following surgery.
Dr. Rajendra Shah
and

Dr. Samir Shah
Are both board certified plastic surgeons with extensive experience and skill in aesthetic and reconstructive surgery.
Share a commitment to provide quality and compassionate care to their patients.
Provide an in-office surgical suite that is fully accredited by AAASF
Are both on staff at Advocate Christ Hospital. The office is located next to this premiere medical center.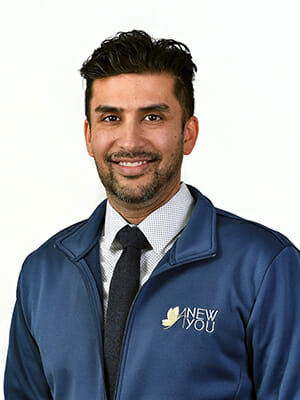 DR. SAMIR SHAH:
Earned his medical degree at the Chicago Medical School.
Trained in general surgery and completed a plastic surgery fellowship at Loyola University Medical Center.
Completed a one-year fellowship in hand surgery/microsurgery under the direction of world-renowned hand surgeon, Larry Hurst, M.D., at Stony Brook University, Long Island, NY.
Has published numerous scholarly articles in medical journals.
Is a member of the Alpha Omega Alpha Honor Society, Illinois Society of Plastic Surgery, and the American Society of Hand Surgery.
Call today to schedule a consultation to see if this procedure is right for you. Call 708-424-3999 or contact us online.
*Results may vary and are not guaranteed. Consult with Dr. Shah to see if you are a good candidate.
Be a more confident you. Explore the benefits of Arm Lift by contacting A New You Plastic Surgery & Laser Center today. Call our office to schedule a consultation with Dr. Rajendra Shah or Dr. Samir Shah.
Call 708-424-3999 or contact us online.

Our

Locations