Skin Care Products
Serving Oak Lawn, Orland Park, Chicago & Surrounding Areas
Just as skin conditions vary, so, too, do the vast array of skin care programs available today. Most skin care products such as astringents, moisturizers and sunscreens are formulated to promote and maintain healthy skin, while others are geared toward repairing and rejuvenating aged or damaged skin.
HOW TO PURCHASE YOUR FAVORITE SKIN CARE PRODUCTS
A New You Patients can call our offices during business hours (8:30 AM – 4:30 PM) or can send us an email @ clientcare@anewyou.net after hours to order products.
We will do curbside pickup at both locations at a designated time which we will set up on an individual basis.
OBAGI® Products:
OBAGI® Gentle Cleanser (Dry)
OBAGI® Foaming Cleanser (Oily)
OBAGI® Elastiderm Eye Cream
OBAGI® Vitamin C Serum 20%
THE IMPORTANCE OF SKIN CARE
Excellent skin care results may be realized through medical procedures such as laser surgery, conventional scalpel surgery, or any of several chemical peel treatments. Chemical peels (often called chemosurgery) use a chemical solution, applied by a trained healthcare professional, to remove the top layers of damaged skin. New cells formed during healing, produce a tighter, more youthful-looking skin.
Chemical peels have proven successful in restoring wrinkled, sun-damaged and blemished skin, and may be applied to the entire face, or specific areas such as the mouth or forehead.
Learn more about the products offered at A New You by clicking on the links below.
Dr. Samir Shah and Dr. Rajendra Shah
Are both board certified plastic surgeons with extensive experience and skill in aesthetic and reconstructive surgery.
Share a commitment to provide quality and compassionate care to their patients.
Provide an in-office surgical suite that is fully accredited by AAASF
Are both on staff at Advocate Christ Hospital. The office is located next to this premiere medical center.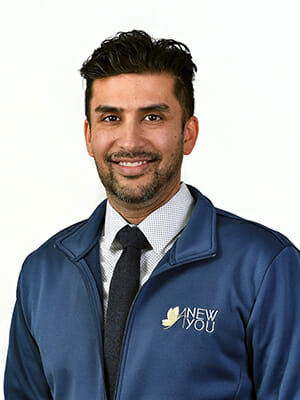 Dr. Samir Shah:
Earned his medical degree at the Chicago Medical School.
Trained in general surgery and completed a plastic surgery fellowship at Loyola University Medical Center.
Completed a one-year fellowship in hand surgery/microsurgery under the direction of world-renowned hand surgeon, Larry Hurst, M.D., at Stony Brook University, Long Island, NY.
Site director for Aesthetic Rotation at A New You
Clinical Assistant Professor of Plastic Surgery at University of Illinois- Chicago Department of Plastic Surgery
Has published numerous scholarly articles in medical journals, and lectures at local organizations.