Breast Augmentation
Serving Orland Park, Oak Lawn, Chicago & Surrounding Areas
Breast augmentation, also known as mammoplasty, is a surgical procedure performed to enhance the shape and size of a woman's breasts, using breast implants. This procedure can help to make the breasts more proportionate to the rest of the body, even out breasts which are different in size or shape, and it can enlarge and reshape breasts which have lost their fullness or shape due to weight loss, pregnancy, breast feeding, or age. Breast augmentation can also be used for reconstructive purposes on patients who have undergone mastectomy or those with a congenital breast deformity.
Breast Augmentation Photos
Click here to view more Before & After Photos
Results may vary
The best candidate for breast augmentation is a woman over the age of 18 who is unhappy with her breast size or shape and is looking to alter their appearance. Patients must be psychologically stable, physically healthy, and have realistic expectations. Breast augmentation can enhance the look of the breasts, and often has the added benefit of increasing one's self confidence.
Breast Augmentation
Real Patient Testimonial
VIEW MORE BREAST AUGMENTATION VIDEOS
Results may vary
Dr. Samir Shah

3 Tips for Considering
Breast
Augmentation
VIEW MORE BREAST AUGMENTATION VIDEOS
Results may vary
How much does breast implant surgery cost?
There are many components that factor into the price, which include the implants, anesthesia, operating room costs, and surgeon's fees. The starting cost for breast augmentation is $5600. There is an additional cost for silicone, shaped implants, breast lifts, or revisions. The final amount will be determined at your consultation.
Is Financing Available?
Yes. We accept major credit cards, cash, or check. We also work with the financing company, Alphaeon® Credit. You may visit their website at https://d.comenity.net/alphaeoncosmetic/. We do not accept personal checks less than two weeks prior to surgery. To see our Financial Policy, visit our Financing page.
The Consultation Process
You will meet with A New You Plastic Surgery & Laser Center's Dr. Rajendra Shah or Dr. Samir Shah to discuss your concerns and expectations. The board certified plastic surgeons will spend time with you to evaluate your anatomy and present options of implants to pick the best size for you. Dr. Shah has an extensive gallery of before and after photos and implant sizers for you to try during the consultation.
What types of incisions are available?
Breast augmentation involves many different options and techniques. Choices must be made about the incision location and the implant placement. The choices that are right for you will depend upon your individual circumstances, and, thus, are best made with the help of Dr. Shah. In terms of incision placement, the axillary and inframammary placements are typically associated with fewer complications with future breast feeding, though both of these placements do produce a visible, though small, scar. The periareolar placement involves a less visible scar, but it is associated with an increase in breast feeding complications. There is also a fourth placement, known as the umbilical or endoscopic placement, which involves the placement of the implant through the naval or belly button, though this is a relatively new technique, and generally not recommended.
Where is the implant placed?
Regarding placement of the implant, there is a choice between subglandular and submuscular. For the subglandular placement, the implants are placed above the chest muscle. Though this placement typically involves shorter surgery and recovery times, less pain and easier accessibility in case of reoperation, it may also involve an increased risk of implant palpability, capsular contracture, and mammography interference.* The patient must be evaluated for appropriate soft tissue coverage.
On the other hand, submuscular placement, or beneath the chest muscle, typically involves a decreased risk of capsular contracture, implant palpability, and mammography interference. However, this placement is also associated with longer surgery and recovery times, more pain, and less accessibility in case of reoperation.*
The most common technique used is a dual plane method. It combines the benefits of both submuscular and subglandular. The lower portion of the implant is in the subglandular plane and helps to define the fold, while the upper half of the implant is submuscular which is beneficial for coverage.
Types of Implants (MEMORYSHAPE®, IDEAL IMPLANT®)

Dr. Rajendra Shah and Dr. Samir Shah have a variety of implants that are only from U.S. manufacturers and FDA-approved. They offer saline, silicone, gummy bear implants, and even custom sizes.

Silicone implants can be considered "gummy" because of the gel. The term "gummy bear" implants generally refers to highly cohesive form stable firm gel. Firm does not necessarily mean hard, and a degree of "firmness" is often desired to recreate youthful breasts.

For women with thin breast skin, a highly cohesive implant is desirable due to less chance of rippling. Generally, if patients have more breast tissue they have more flexibility in implant choice. For patients who desire the "public" part of their breast to be more prominent, then high profile round implants create a fuller upper pole. If a natural, subtle upper pole is desired, moderate to moderate plus implants will suffice. Because of the options present with smooth round gel implants, these are the most common type of implants used by Dr. Shah.

In 2017, the 5th generation smooth round implants were released. Now, Dr. Shah offers 5th generation Allergan's Inspira line and Mentor's Memory Gel Xtra, which are highly cohesive (gummy bear) smooth round implants.

In addition to gel styles, implants are smooth or textured. Currently, all of the shaped implants are textured. If indicated, Dr. Shah may utilize textured round implants in cases of malposition, augmentation/mastopexy, or when stable implant position is required. Most importantly, Dr. Shah does NOT use Allergan's Biocell line of textured implants. As of July 2019, the FDA has requested Allergan to recall all textured implants. Refer to this link to read more information. Currently, Mentor's textured implants have not been recalled by the FDA.

With so many options, it can be overwhelming process. Please call and make an appointment with Dr. Samir Shah or Dr. Rajendra Shah to discuss your breast augmentation goals. He will explain all the implant options and together you will arrive at a decision.

• MEMORYSHAPE® BREAST IMPLANTS

A New You Plastic Surgery is now offering FDA-approved MENTOR® MemoryShape® breast implants. These breast implants are a safe, innovative option for patients seeking breast augmentation. The implants are tear drop shaped, textured, with a cohesive gel. Frequently, these implants are referred to as "gummy" bear implants. The latest studies have reported MemoryShape® implants to have lowest incidence of complications for primary breast augmentation in 10 years.**

The memory shape implants are designed to create a natural-looking breast as opposed to the traditional round implants. The implants are differentially filled so that there is more volume at bottom of the implant and gradual taper at the top to best simulate the shape of a natural breast. The implant is made of SILEX soft gel material that creates a natural, lasting, look. There are five different styles to accommodate the differing physical characteristics of each patient.

You can schedule an appointment with Dr. Samir Shah or Dr. Rajendra Shah to discuss your breast augmentation with MemoryShape® implants. Patients who are ideal candidates are looking to increase by one or two cup sizes, good skin tone that is not too saggy, looking for a fuller, more natural look.

• IDEAL IMPLANT®

Dr. Rajendra Shah and Dr. Samir Shah are pleased to offer the IDEAL IMPLANT® Structured Breast Implant, a new third type of implant that is filled with saline, but has an internal structure to make it behave as if filled with silicone gel. The IDEAL IMPLANT contains a series of nested shells that provide support to the edges and control fluid movement to prevent bouncing. The result is an implant that combines certain key features and benefits of both saline and silicone gel implants.

WHY ARE MORE WOMEN CHOOSING THE IDEAL IMPLANT?


Youthful shape and natural feel*
Filled with saline, that is safely absorbed by the body if ruptured
No sticky silicone gel from ruptured implants in surrounding tissues
No silent rupture—you will always know that your implants are intact
Lower rupture rate and higher rupture strength
Requires a smaller incision than silicone gel implants
No costly MRIs needed to detect silicone gel rupture
Smooth surface

Like the saline implant, the filler is only saline, which women like for peace of mind in case of a rupture/deflation. Like the silicone gel implant, it has a natural feel, but without the risk of silent rupture and FDA-recommended MRI scans – women can simply look in the mirror and know their implants are intact. In addition, clinical trial results at 6 years show the IDEAL IMPLANT has a lower rate of capsule contracture and a lower rate of rupture than silicone gel or saline implants for primary augmentation.*

If you are interested in seeing if you are a candidate for Ideal Implant® or learning more about breast augmentations, call our office today to schedule a consultation with Dr. Shah. Call 708.424.3999
FDA Finding with Breast Implants (3/22/17)

Recently, several media stations have reported FDA findings suggesting a link between breast implants and a rare blood cancer, anaplastic large cell lymphoma (ALCL). To clarify, there is no known association between breast implants and breast cancer.

In 2011, the FDA first identified the association between implants and ALCL and since then has collaborated with the WHO (World Health Organization) and the ASPS (America Society of Plastic Surgery) to further study this finding. As of February 1, 2017, there have been 359 reported cases out of 1.8 million implants. Thus, it is an extremely rare incidence.

Dr. Rajendra Shah and Dr. Samir Shah are committed to maintaining breast health and implant safety. They will evaluate and advise you further about this condition. It is a rare condition and most often presents as a late swelling (seroma) around the implant. The doctors are trained to recognize the issue. In addition, Dr. Shah will provide routine monitoring of your implants. If there is any concern, an MRI can be obtained.

The FDA as well as Dr Shah do not recommend prophylactic removal of your existing implants, but rather be aware of this issue and feel comfortable that there are treatment options available.
Please call us at 708.424.3999 for any questions or concerns.
Surgery

Breast augmentation typically takes between one to three hours to complete and may be performed under general anesthesia or a combination of local anesthesia and sedation at our AAAASF Certified Surgery Center in Oak Lawn, IL.*

There are several different possible locations for the incisions: axillary, which is under the armpit, inframammary, which is within the crease below the breast; and periareolar, which is around the nipple. Once the incision is made, the breast tissue is lifted to make a space or pocket into which the implant is then inserted. The implant may be placed in one of two locations: subglandular, which is above the chest muscle, or submuscular, which is beneath the chest muscle. The implant is inserted and the incisions are then closed. Oftentimes, Dr. Shah will use sizers prior to final implant placement to ensure the accuracy. Tape may be used for added support and the breasts may also be wrapped with gauze or other bandages.
The Keller Funnel™ Technique at A New You

Dr. Samir Shah and Dr. Rajendra Shah both employ a "no-touch" technique when inserting implants by using the Keller Funnel™. The Keller Funnel™ was created by Kevin M. Keller in 2009. Using this device reduces the chance of complications such as capsular contracture, infection, and contamination. During surgery, smaller incisions are used and less time is needed during the procedure.*
The Recovery

After surgery, patients often feel somewhat sore, tired and stiff, which can last for several days. Local anesthetic is given at the time of surgery. Prescribed pain medication can help alleviate any pain or discomfort you experience. Dr. Shah may also request that you keep your arm extensions to a minimum, raising your elbows no higher than your armpit, for three to five days after surgery.*

A few days after surgery, any bandages that were applied are usually removed.* Many times, patients are required to wear a support bra or compression bandage to help support and position the breasts. All sutures are dissolvable.

The breasts may feel tight at first as the skin adjusts to the new breast size, and the breasts themselves may seem hard at first, though they do soften in time. Swelling is common and usually begins to fade within a few weeks. Increased sensitivity to physical contact of the breasts may occur for a month or longer. The scars will be pink right after surgery and for several weeks, but will fade over a period of several months.* Oftentimes, breast exercises are performed to help the implants settle.

The amount of time it takes to recover will be different for each patient and for each technique. However, most patients find that they can return to work a few days after surgery. Nonetheless, you will need to refrain from overly strenuous activities for several weeks.*
How Long do Implants Last?

There is no set time frame for the longevity of implants. Most companies will provide a warranty for implants should there be any issues such as deflation, rupture, or capsular contracture. Dr. Shah will provide yearly visits to ensure the implants are in good position. Also, you will be able to obtain mammograms, but have to inform the technician that you have implants.
Dr. Rajendra Shah
and

Dr. Samir Shah
Are both board certified plastic surgeons with extensive experience and skill in aesthetic and reconstructive surgery.
Share a commitment to provide quality and compassionate care to their patients.
Provide an in-office surgical suite that is fully accredited by AAASF
Are both on staff at Advocate Christ Hospital. The office is located next to this premiere medical center.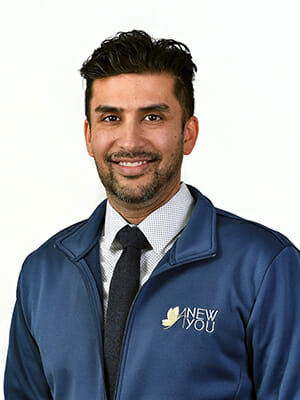 DR. SAMIR SHAH:
Earned his medical degree at the Chicago Medical School.
Trained in general surgery and completed a plastic surgery fellowship at Loyola University Medical Center.
Completed a one-year fellowship in hand surgery/microsurgery under the direction of world-renowned hand surgeon, Larry Hurst, M.D., at Stony Brook University, Long Island, NY.
Has published numerous scholarly articles in medical journals.
Is a member of the Alpha Omega Alpha Honor Society, Illinois Society of Plastic Surgery, and the American Society of Hand Surgery.
If you are interested in seeing if you are a candidate for a Breast Augmentation, call our office today to schedule a consultation with Dr. Rajendra Shah and Dr. Samir Shah, board certified plastic surgeons. Call 708-424-3999 or contact us online.
*Results may vary and are not guaranteed. Consult with Dr. Shah to see if you are a good candidate.
**Mentor Worldwide, LLC. MemoryShape® Post-Approval Cohort Study (formerly Contour Profile Gel Core Study) Final Clinical Study Report. 02 June 2015.
Be a more confident you. Explore the benefits of breast augmentation surgery by contacting A New You Plastic Surgery & Laser Center today. Call our office to schedule a consultation with Dr. Rajendra Shah or Dr. Samir Shah.
Call 708-424-3999 or contact us online.

Our

Locations