Medical Spa Services
Serving Orland Park, Oak Lawn, Chicago & Surrounding Areas
Under the supervision of board certified plastic surgeon, Dr. Rajendra Shah, and licensed aesthetician, we can offer a menu of facial services that allows us, medical professionals, to offer higher concentrations of treatment formulas and technology superior to those allowed in salons. We can design a skin-perfecting program and enhance your inner beauty.
Whether you're interested in refreshing and rejuvenating your look or improving the appearance of sun/weather damage, Dr. Shah and his staff will assist in the fulfillment of your cosmetic needs, both surgical and non-surgical.
Facials
Designed and customized for individual needs using medically-based, strong products for deep cleansing, exfoliation of dead cells and extraction of pore-clogging oil and blackheads.
De-stress and enjoy remarkable results.
Micropeels
Promote the reduction of impurities and toxins from the skin, while exfoliating epidermal cells giving you a fresh and revitalized appearance. Peels are performed with concentrations of twenty percent – thirty percent of AHA, only achieved under medical supervision.
Counteracts photo-aging appearance of acne, large pores and prematurely aged, dehydrated skin, while stimulating elastin and collagen.
Chemical Peels
A professionally administered peel by A New You Plastic Surgery's licensed aestheticians can restore aging, sun damaged, and dull skin to a more youthful and vibrant state.
Botox® Cosmetic
A quick, minimally-invasive procedure to reduce the lines and wrinkles around the forehead and eyes.
Dysport®
A prescription cosmetic injectable that treats "frown lines" and "crow's feet" on the face. Dysport® is approved by the FDA and helps reduce the signs of aging while still maintaining a natural-looking appearance.
Juvederm Voluma® XC
An injectable gel that gives cheeks a lift. Voluma® XC helps improve the shape of the cheeks which gives the face a more youthful appearance.
Restylane®
Injected around the mouth and lips to provide volume and fullness and plump the lines and wrinkles in this area. The gorgeous results can last from six to eight months.*
Sculptra®
The new filler with up to 2 years of lasting effect.* Sculptra® is injected below the surface of the skin in the area of fat loss. Sculptra® provides a gradual increase in skin thickness. Visible results may appear within the first few treatment sessions.
Juvederm®
FDA-approved, an injectable gel filler, is a "next generation" dermal filler. This smooth consistency of Juvederm® made of hyaluronic acid, a naturally occurring substance in your skin that helps to add volume and hydration.
Laser Hair Removal
Say good bye to shaving and stubble and hello to smooth skin. Guided by Light Sheer Laser technology, we can provide a solution to unwanted hair.
LATISSE®
The first and only FDA-approved treatment for people with inadequate or not enough eyelashes. A new innovation in lashes, you can now grow your own eyelashes longer, fuller and darker in as little as 2 months!*
Dr. Samir Shah and Dr. Rajendra Shah
Are both board certified plastic surgeons with extensive experience and skill in aesthetic and reconstructive surgery.
Share a commitment to provide quality and compassionate care to their patients.
Provide an in-office surgical suite that is fully accredited by AAASF
Are both on staff at Advocate Christ Hospital. The office is located next to this premiere medical center.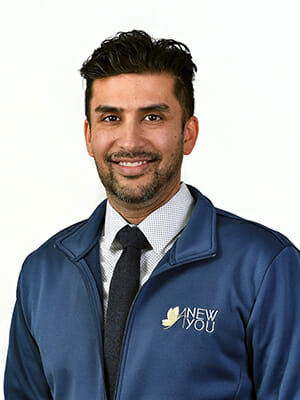 Dr. Samir Shah:
Earned his medical degree at the Chicago Medical School.
Trained in general surgery and completed a plastic surgery fellowship at Loyola University Medical Center.
Completed a one-year fellowship in hand surgery/microsurgery under the direction of world-renowned hand surgeon, Larry Hurst, M.D., at Stony Brook University, Long Island, NY.
Site director for Aesthetic Rotation at A New You
Clinical Assistant Professor of Plastic Surgery at University of Illinois- Chicago Department of Plastic Surgery
Has published numerous scholarly articles in medical journals, and lectures at local organizations.